source photo
Mack Collier a eu la bonne idée de revendiquer la nécessité pour les marques de prendre le temps de comprendre comment fonctionnent les médias sociaux en un titre un peu provocateur "les médias sociaux nécessitent du temps, pas de l'argent" [ enfin quand même un peu hein ] :
"Don't have a firm or consultant set up a blog or Twitter account for you so you can broadcast. Take the time to invest in learning how your customers are using these tools, and more importantly, why. Spend time getting to know your customers and interacting with them."
Il faut donc écouter avant de produire.
Le point implicite est qu'il ne s'agit pas seulement d'émettre pour être reçu. Pour résumer en une formulation de Scott Monty : "News flash: social media is less about you than it is about the other guy"
Illustration avec Intervilles :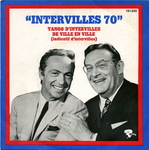 Guy Lux : – moi je suis dans Intervilles
Léon Zitrone : – Je suis aussi dans Intervilles
Guy Lux : – Mais moi je suis dans une ville
Léon Zitrone : – Et moi, je suis dans l'autre ville
Guy Lux : – Nous sommes branchés sur la même chaîne
Léon Zitrone: – Pourtant nous nous voyons à peine
Guy Lux : – Léon !… Léon !…
Léon Zitrone: – Guy Lux, je ne vous entends pas !
Guy Lux : – (Ah, ça m'aurait étonné…) Voilà…C'est bon !
Les marques vont devoir continuer à pirater positivement leurs repères et les fréquences sur lesquelles elles ont l'habitude d'agir au sens Grec du terme : "tenter sa chance à l'aventure" et dans son extension latine pirata : "celui qui tente la fortune, qui entreprend". Ce n'est pas propos d'un "affrontement" entre les marques vs les consommateurs, mais plutôt sur la découverte d'un territoire où les 2 parties prenantes vont pouvoir s'entendre.
Merci à La Source pour l'info.