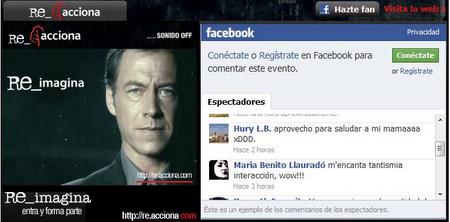 Citoyens !
Trouvé en Espagne, un nouveau type de publicité basée sur Facebook Box pour Acciona, une société dont la mission est "to be a leader in infrastructure management, services and renewable energy, contributing towards social wellbeing."
L'idée est simple : apporter une dimension participative à une publicité afin d'engager une conversation.
En clair, une bannière ne générant pas de drive to compulsif mais bien plutôt un interest to.
Selon Antonio Ortiz :
"Hay dos elementos en esta propuesta que creo que merecen la pena ser examinados. Por un lado tenemos el factor "riesgo" para el anunciante, Acciona en este caso, que se echa al ruedo y se atreve que su campaña sea discutida sin control de la conversación. Esta postura a la que cada vez se empuja más desde el "marketing en social media", la hemos introducido en la propia pieza publicitaria, ¿resultado de momento? Bastante participación, con algunas críticas, otros comentarios despistados y no pocos comentarios también muy positivos. Una reacción a la campaña directa por quienes la reciben.

El segundo elemento es la tecnología utilizada, la apuesta por Facebook. En su elección ha pesado que queríamos algo con registro mejor que un chat en abierto para poner alguna barrera al trolleo y que también permitiera cierta gestión de la privacidad, si alguien quería comentar sólo para sus contactos, que pueda hacerlo. Alguno se ha sorprenddido al ver que la pieza le reconoce al haber dejado la sesión en Facebook abierta, pero más allá de eso creo que hemos acertado con la elección."
A suivre de près car quand la proposition de valeur est suffisante, ce type d'espace peut être extrêmement pertinent pour les marques…